Auto Alternator for Volvo Truck Fh12 Fh16 Fh12, 0120468093, 0120468135, 0120468144, Ca9071r 24V 80A
Model NO.: HHR20206
Structure: Brushless Alternator
Current Level: 8(80~89A)
Brushless Alternator Type: Permanent Magnet Type
Voltage: 24V
Brand: Japarts
Transport Package: Neutral Box, Colour Box, Pallet Packing
Origin: China
Type: Rectifier
Rectifier Structure: Eleven Tubes
Bonding Type of Magnetic Field Winding: Inner Bonding
Voltage Adjuster Type: Electronical
Head Cover Position: Back
Trademark: Bosch
Specification: 24V 80A
HS Code: 8511509000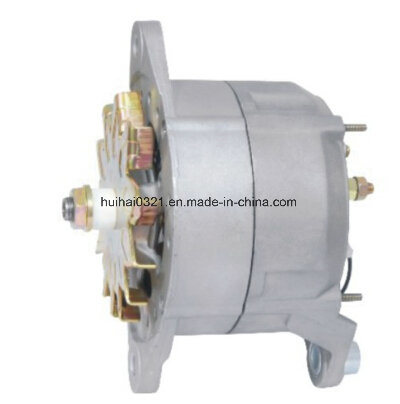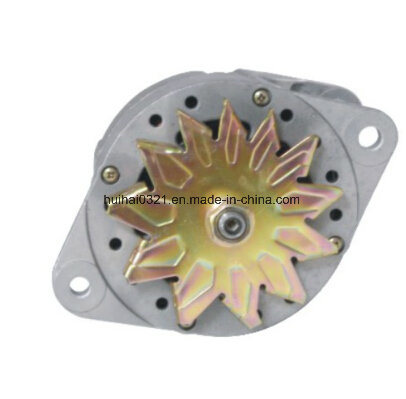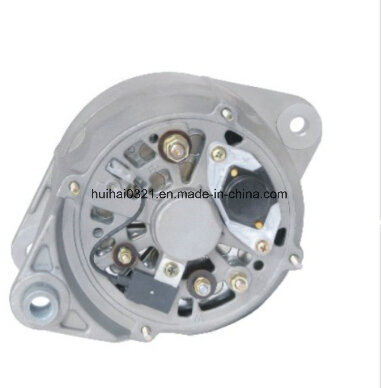 | | | |
| --- | --- | --- |
| S/N | OEM | Part No. |
| 1 | Lester | 12596 |
| 2 | Cargo | CA907IR |
| 3 | Bosch | 120468093 |
| 4 | Bosch | 120468135 |
| 5 | Bosch | 120468144 |
| 6 | Bosch | 120469018 |
| 7 | Bosch | 120469033 |
| 8 | Bosch | 120469044 |
| 9 | Bosch | 06033GB3021 |
| 10 | Bosch | 986039260 |
| 11 | Bosch | 3926 |
| 12 | Bosch | 6033G3073B |
| 13 | Bosch | 6033GB3020 |
| 14 | Bosch | 6033GB3021 |
| 15 | Lucas | LRA02470 |
| 16 | Lucas | LRA02501 |
| 17 | Lucas | LRA2470 |
| 18 | Lucas | LRA2501 |
| 19 | Valeo | 2541624A |
| 20 | Valeo | 2542514 |
| 21 | Valeo | 436393 |
| 22 | Valeo | A14N183 |
| 23 | Valeo | A14N183M |
| 24 | Valeo | A14N208M |
| 25 | Volvo | 1096757 |
| 26 | Volvo | 1096758 |
| 27 | Volvo | 1117011 |
| 28 | Volvo | 21048174 |
| 29 | Volvo | 3173821 |
| 30 | Volvo | 3986428 |
| 31 | Volvo | 3986429 |
| 32 | Volvo | 8113915 |
| 33 | Volvo | 813477 |
| 34 | Volvo | 8144401 |
| 35 | Volvo | 8156816 |
| 36 | Volvo | 8156817 |
 
| | | | | |
| --- | --- | --- | --- | --- |
| S/N | Make | Model | Engine | Year |
| 1 | Volvo Bus | B12 | D12…. / DH12D… | 01- |
| 2 | Volvo Truck | FH12 | D12D.. | 01- |
| 3 | Volvo Truck | FH12 | D12A.. | 93-98 |
| 4 | Volvo Truck | FH12 | D12C.. | Jan-98 |
| 5 | Volvo Truck | FH16 | D16A.. | 93-99 |
| 6 | Volvo Truck | FH16 | D16B.. | 99- |
| 7 | Volvo Truck | FL12 | D12A.. | 95-98 |
| 8 | Volvo Truck | FM10 | D10B.. | Feb-99 |
| 9 | Volvo Truck | FM12 | D12D.. /Â D12C.. | Feb-98 |
| 10 | Volvo Truck | FM7 | D7C.. | Feb-98 |
| 11 | Volvo Truck | FM9 | D9A.. | 02-Â  |
Wenzhou Huihai Auto parts Co.,Ltd 

 is one of the leading exporters in China, specializing in the exporting field of auto spare parts, we continuously expanding the range of our products and we have very good reputation on the market.

We provide over 1000 kinds of Alternators.Our parts are applicable for BENZ,VOLVO,BMW,VW,RANGEROVER,FORD,GM,BUICK,TOYOTA

,SUZUKI,NISSAN,MAZDA,ect.The parts are exported to Europe,North&South America, West&East Asia, Middle East and other regions of the world.

We supply to customers immediate-responded service, quickly orders confirmation and responsible after-sale service.Our aim is that "Prestige First, Quality First, Efficiency First and Service First.".And we 're devoting to become the most professional spare parts exporter. What you need is what we can provide. We sincerely welcome your inquiry!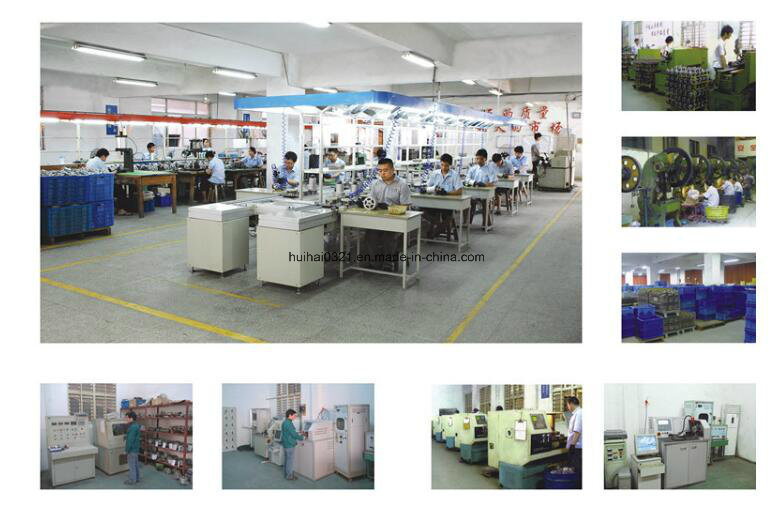 Wenzhou Huihai Auto Parts Co.,Ltd
Mobile No.:+8615995585566

The clutch cover (Clutch Pressure Plate) supports the clutch rotating system and transmits engine torque by pushing the Clutch Disc. It is mounted on the flywheel, and squeezes the disc against the engine flywheel.

For comfortable and safe driving, it is important to select a good quality clutch cover suitable for the type of vehicle. SYC clutch cover is categorized according to shape, part composition and features. Each type has a unique characteristic and permit the part for each car ensuring a smooth start & a good driving.

Every SYC Clutch cover need pass the size, dynamic balance, performance test before the delivery.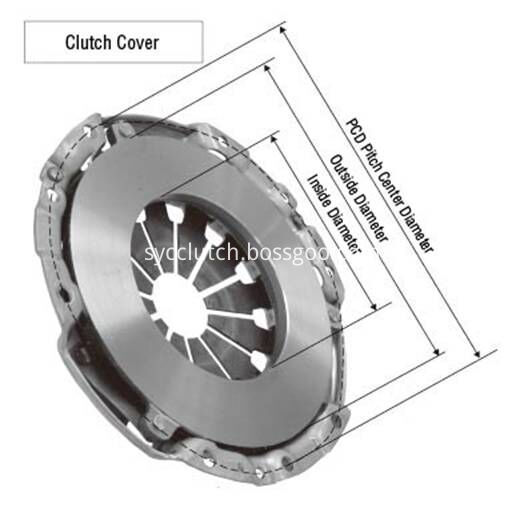 Clutch Cover

Clutch Cover,Auto Clutch Cover,Mini Clutch Cover,Toyota Clutch Cover

Yuhuan Shouyuan Machinery Co., Ltd. , http://www.sycclutch.com