Lantai CM-8823 thickness gauge latest offer
February 10 19:02:50, 2019
Lantai CM-8823 thickness gauge in the following four different quotes: quoted in Wenzhou area is 1690-2110 yuan, quoted in Shanghai area is 1400-2178 yuan, quoted in Dongguan area is 1718-2080 yuan, in Guangzhou area The price is 1700-2078 yuan.

Product Name Brand Model Area Price (RMB Yuan/piece) Thickness Meter Lantai CM-8823 Wenzhou 1690-2110 Shanghai 1400-2178 Dongguan 1718-2080 Guangzhou 1700-2078

Product Model:CM-8823


Function:Measure the thickness of non-conductive coating on aluminum base Measurement range:0~1000um/0-40mil(standard range)

Resolution: 0.1 um (less than 100um)

1 um (greater than 100um)

Minimum measurement area: 6mm

Thinnest substrate: 0.3mm

Metric / imperial: optional battery voltage indication: low voltage prompts automatic shutdown environment: Temperature: 0-40 °C Humidity: 10-90% RH

Accuracy: ±1~3%n or ±2.5um

Power: 4 AA batteries size: 161x69x32 mm

Weight: 210g (without battery)

Measurement range: 0-200um to3000um

The eddy current sensor measures germanium, rubber, paint, and plastic layers on substrates such as copper, aluminum, zinc, and tin. Widely used in manufacturing, metal processing, chemical industry, commodity inspection and other testing areas.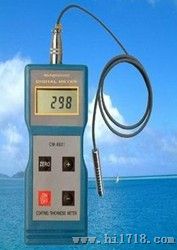 Gas Heater,Solar Water Heater,Warm Wind Radiator Heater

U & C Auto Parts Co., Ltd. , http://www.njradiator.com