·Long Hao Technology Lv Zhenya won the 2016 Nanjing Mayor Quality Award
November 07 14:02:08, 2019
On the morning of March 9, the Nanjing Municipal Government held a working conference on the city's quality city. Zhang Qian, deputy director of the Jiangsu Provincial Quality Supervision Bureau, Sun Jianyou, deputy mayor of Nanjing, and Sun Ning, director of the Nanjing Quality Supervision Bureau, attended the meeting. The meeting summarized the work of the city's quality in 2016, and commended the enterprises and individuals who won the 2016 Nanjing Mayor Quality Award and the nomination award, the Nanjing Famous Brand Products Enterprise, and the Excellent Quality City Work Area. As approved by the Municipal Government Quality Award Evaluation Committee, Lv Zhenya, Executive Deputy General Manager of Longyi Technology, was awarded the 2016 Nanjing Mayor Quality Award (individual).
It is reported that the Nanjing Mayor Quality Award is the highest award for quality management in the city. It is judged according to the "Nanjing Mayor Quality Award Assessment Management Measures", with organization awards and individual awards, and each nomination award. There shall be no more than 3 quality award organization and individual awards per mayor; no more than 5 nominations for organization and individual. The Mayor Quality Award was established to recognize organizations and advanced individuals who have achieved outstanding results in business management.
Since 2009, Mr. Lu Zhenya has introduced a high performance management model in Jiangsu Longsheng Technology Co., Ltd., and has continued to advance for many years. He has established a unique corporate culture of Longyi Technology, regularly organizes various business modules for analysis and planning, and establishes the company's middle Long-term strategic planning, comprehensive strategic deployment, follow customer-oriented service concept, improve internal operation and construction, improve customer service efficiency and satisfaction, and establish a scientific analysis and improvement method to promote the company's main economic indicators to maintain growth for many years. In the process of implementing the high performance management model, Longyi Technology Co., Ltd. has won recognition and awards from all levels of quality authorities, and has successively won the Nanjing Municipal Government Quality Award, Nanjing Mayor Quality Award (Organization), and Jiangsu Province Quality Management Excellence. Awards, Jiangsu Province Quality Awards and other honors.
This time, Lu Zhenya won the 2016 Nanjing Mayor Quality Award (individual), which not only recognized Lv Zhenya's achievements in corporate management, but also reflected that the government authorities are constantly pursuing quality excellence in the business process of Long Hao. Affirmation of quality breakthroughs.

Based on the low labor cost and reasonable stainless steel cost, Helper help to offer clients internal transport devices with best price. These machines and device include standard material truck, smoking trolley, lifter, conveyer belts, spiral feeding machine, hydraulic lifter etc. The internal transport device is used in filling and forming workshop, tumbling and seasoning workshop, smoking and cooking room etc.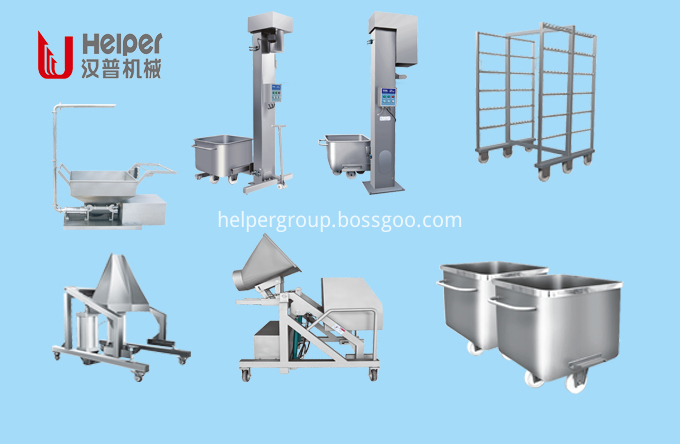 Helper has a professional team to design and produce sausage clips. They have rich experience and understand all the key points for produce good quality clips. From the raw material purchasing to mould designing, from the QC in production to post-treatment, they pay attention to all these details that lead to the good quality of Helper`s clip series. Our clips products include U shape clips, Great wall shape clips, and aluminum wire (for aluminum wire clipper).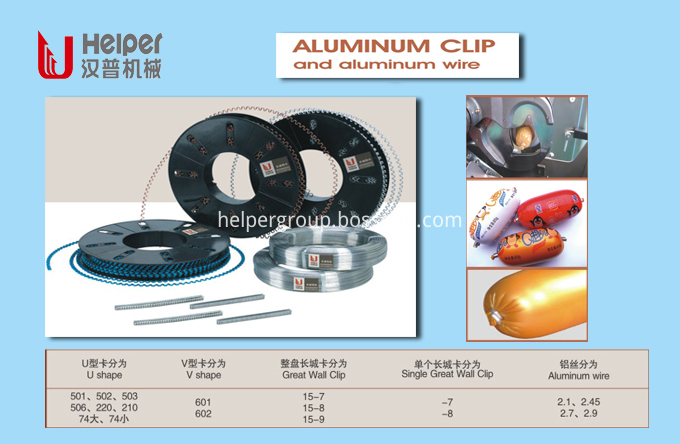 Peripheral Devices and Consumables

U Shape Sausage Clip,Clips On Strip,Bag Packaging Clips,Screw Material Conveyor

Shijiazhuang Helper Food Machinery Co., Ltd. , https://www.processings.nl